YControl Subsystem
The YControl subsystem is used to allow asynchronous operation between netconfd-pro and higher layer services, such as SIL-SA. The YControl subsystem is a shared library that is linked with other libraries and runs in the vendor process.
The YControl subsystem is designed to support multiple independent upper-layer services . The main server does not provide an external API to the server handler for each subsystem at this time.
An IO poll API is called periodically by the vendor process to check for incoming messages.
The subsystem provides a communication service between the server and another process. It does not provide any high-level service within the server. It handles the following services:
connection and reconnection to the netconfd-pro server

configurable connect and retry parameters

the server can boot before or after the process using YControl.

registration API for higher layer services

message processing API for higher layer services
Subsystem Software Components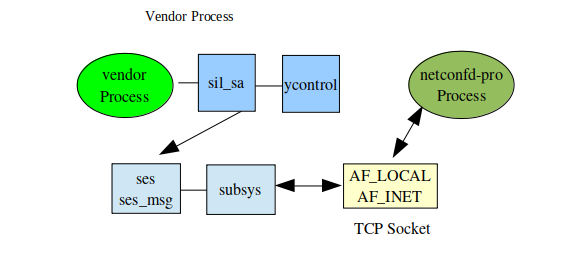 Server to Subsystem Service Layer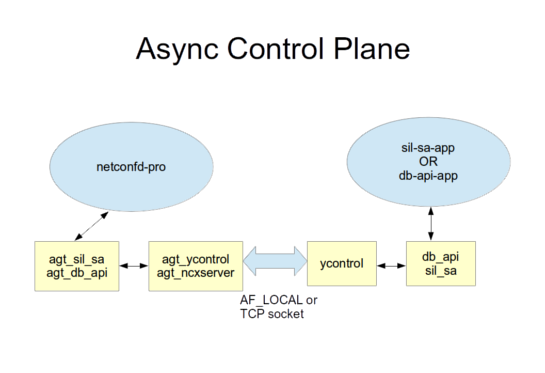 YControl API Functions
Each high level service must register the proper callback functions with the YControl subsystem.
The application will poll the IO function periodically to handle communication with the main server. The callback functions registers with the subsystem will be invoked as needed, based on the received message.
The main YControl functions are described in this section.
The following sample applications show how to use YControl API functions.
combo-app

db-api-app

sil-sa-app
Initialization and Cleanup
The following functions are used for initialization and cleanup of the YControl subsystem:
ycontrol_init: Phase 1 Initialization

ycontrol_init2: Phase 2 Initialization

ycontrol_register_service: Register a set of callback functions fort a high-level service

ycontrol_cleanup: Shutdown YControl subsystem and all upper layer services

ycontrol_request_shutdown: Trigger shutdown of YControl subsystem and all upper layer services

ycontrol_shutdown_requested: Check if shutdown of YControl subsystem has been triggered
Runtime Functions
The following functions are used after initialization is complete to access the YControl subsystem:
ycontrol_check_io: Check for any incoming messages from the main server

ycontrol_is_ready: Make sure the YControl subsystem is ready for a new request

ycontrol_send: Send any YControl message to the main server

ycontrol_send_error: Send an error response to the main server
YControl Message Structure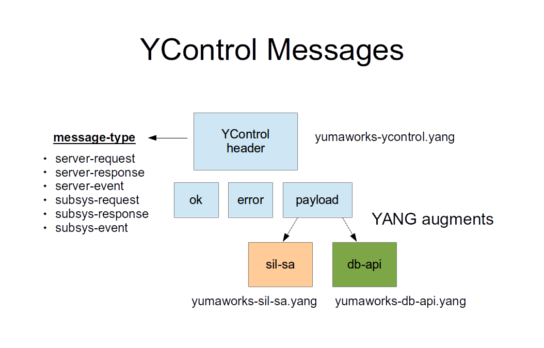 There are 6 types of messages supported, indicated by the message-type leaf
server-request: request from server to subsystem, expecting a subsys-response

server-response: response from server to subsystem to a subsys-request message

server-event: event from server to subsystem; no response

subsys-request: request from subsystem to server, expecting a server-response

subsys-response: response from subsystem to server to a server-request message

subsys-event: event from subsystem to server; no response
Each message type shares the same payload structure. There are 3 formats, specified by the 'message-payload' choice-stmt in the YANG module.'
container payload: message body

leaf ok: NO_ERR response

container error: error response
The yumaworks-ycontrol.yang module contains the YControl message structure.